01/12/2023 – Lutz, Florida: Lead aprons are incredibly important for the safety of doctors and patients who are routinely exposed to the harmful effects of scatter radiation. The apron itself is a piece of medical protective clothing. Utilizing it encourages the practice of shielding vital organs from the harmful effects of radiation. The apron has three types of Lead protection inner materials: the standard lead rubber, Lightweight lead blend, and a lead-free option that all come with the same Protection levels .35 or .50mm Pb. The outer material is made of Three standard materials Nylon, Polytran, or Steritouch material in a multitude of colors and patterns. Doctors and physicists in medicine use these protective garments in all x-ray situations, regardless of the amount of radiation. Lead aprons are highly recommended by industry scholars from all backgrounds, including those from the American Association of Physicists.
The first question about apron maintenance that our customers often ask us is how to keep their lead aprons clean. Understandably, it is inevitable that aprons will get dirty during use. In fact, we highly recommend a proper cleaning after each patient that wears the radiation apron. It is important to never soak or submerge the apron in water. This means that you should not put it in the washer or the dryer to clean or dry it. Instead, simply spot clean the apron carefully with a damp cloth. If there is staining or debris that needs more vigorous scrubbing to clean, use gentle tools. In fact, you should use something with extremely soft bristles, such as a toothbrush. Lastly, avoid using harsh cleaning agents such as bleach. Alternatively, use a mild detergent or cleaning solution. AttenuTech® conveniently provides some great apron cleaning solution options. Lastly, periodically sanitize the apron with a cleaning agent.
Therefore, you may be wondering what this mild detergent or cleaning agent is that you should use. Well, Attenutech's line of lead apron cleaners includes high quality cleaners by Clorox and Revolution. These products include spray on disinfectant, as well as disinfecting wipes. These are the Clorox Disinfectant Cleaner Canister- 95 Wipes, the Clorox Disinfectant Cleaner 32oz Bottle, and the Revolution Scrubbles Apron Cleaner 32 oz.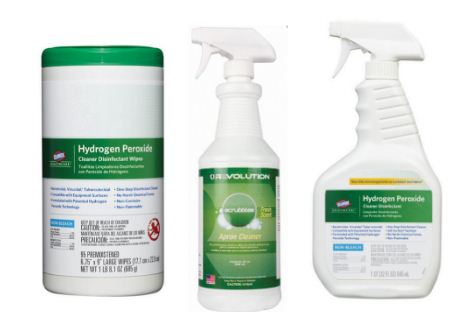 Both companies' cleaners are high quality and highly disinfecting and sanitizing. They both are approved by medical staff as excellent cleaning agents for medical debris. In fact, these cleaners are approved for multiple environments and surfaces. People in the medical radiation segment trust these products to provide excellent cleaning and care for their radiation PPE.
The Revolution Scrubbles apron cleaner is the first and only cleaning solution developed specifically for aprons. Therefore, Scrubbles apron cleaner safely cleans your aprons of barium, blood, and other common radiology related stains. Our customer care team has evaluated this disinfectant to ensure it provides optimal cleaning. He revolution Scrubbles cleaner has a clean scent and a strong, efficient formula. At AttenuTech®, we are highly confident that your apron will be cleaner than ever with Scrubbles.
About Us:
AttenuTech® provides radiation protection products for physicians, techs, nurses, and staff who utilize Fluoroscopy for imaging procedures. At AttenuTech®, we are dedicated to implementing the best radiation protection in high-risk surgical environments. With a manufacturing presence in the United States and Europe, we guarantee the highest quality of products and services in the radiation protection industry. We provide affordable and applicable solutions through state-of-the-art technologies and modern equipment. All AttenuTech® products are CE Certified, and manufactured with strict adherence to applicable laws, standards, and regulations, assuring the highest levels of protection, confidence, and quality.Contact Information:
Like us: https://www.facebook.com/attenutech/
Follow us: https://www.instagram.com/attenutech_radiationprotection
Retweet us: https://twitter.com/attenutech
Contact Detail:
Company Name: AttenuTech®
Contact Person: Ryan Phillips
Email: Send Email
Phone No: +1 813-909-8330, 1-800-757-2703
Address: 24008 State Road 54 Lutz
State: FL 33559
Country: United States
Website Url: https://www.attenutech.com/


Source: www.PRExhibition.com